6 Interesting Facts About Black Angus Cattle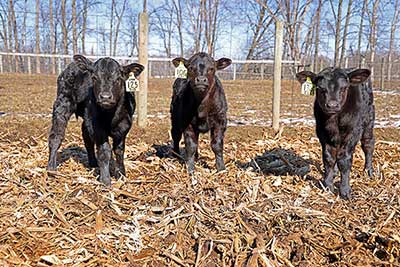 A herd of Black Angus cattle is truly amazing to see in a pasture. At WTR, we are lucky to see this every day, with our herd of Black Angus carefully selected for performance and production.
There are a lot of interesting facts about the breed, but here are six facts about Black Angus cattle that we find people are often most surprised to know:
Naturally polled – the Angus breed is naturally polled, which means these cattle do not have horns. This is an added advantage in herd upkeep as there is no need to worry about injuries from horns that can be an issue with other breeds.
Scottish heritage – the Black Angus, also known as the Aberdeen Angus, originated in the 16th century in Angus and Aberdeenshire, both on the northeast side of the country. The original name of the breed was the Angus doddies, with the first herd book in 1862. William McCombie is acknowledged at the "father of the breed" as he started selectively developing the breed traits in 1824. Many of the first facts about Black Angus cattle came from his herd.
First US arrivals – the first Angus in the USA were imported by George Grant of Victoria, Kansas. The four bulls arrived on May 17, 1873. These four bulls were used in crossbreeding programs, with the Angus traits and highly desirable characteristics prominent in the calves.
First Angus calf born internationally – the first purebred Angus calf born outside of Scotland was on January 12, 1877, from a cow named Eyebright imported to Canada by the Ontario Agriculture College in Guelph, Ontario.
American Angus Association – the quality of the first generation of Angus calves sparked an interest in importing more bulls and cows from Scotland to the USA. On November 21, 1883 the American Angus Association was formed in Chicago.
Color considerations – the first Angus were both Red and Black, and both were registered in the herd books until 1917. At this time, the American Angus Association limited registration to the solid black, barring red or other color combinations. Today, the Angus breed is the most popular beef breed in the United States, and there is lots of interest around facts about Black Angus cattle. They are known for exceptional marbling, and the Certified Angus Beef standard ensures that the quality of meat is maintained for both the purebred and crossbred carcasses with Angus influence.