Competitiveness of the tests… from our farm tested bulls, to Indiana Bull Evaluation Program, to Werner Feed Efficiency (WFE) test in Iowa, to the 'Granddaddy of all Bull Tests', Midland Bull Test in Montana where our bulls compete with 750 Angus bulls and over 300 bulls from other breeds. The most discriminating cattlemen come to Midland, Werner Feed Efficiency test, and IBEP to pick top performing genetics and structurally sound bulls. Test includes feed efficiency, rate of gain, ultrasound of carcass quality, structural evaluation, and a breeding soundness evaluation (BSE). Check out our bulls on test at each test throughout the year as we update this section for WTR bulls' performance. We are most proud of the 'consistency of performance' from WTR bulls at these competitive test programs.
Werner/ICA
2 Head Selling
Friday, April 22, 2022 • 6:30 pm CT
Humeston Live Stock Exchange, Humeston, IA
Sale broadcast via internet: LiveAuction.TV, call Skylar Britain 515-250-0747 with ICA.
Click name or registration number to see updated EPDs
ICA/Werner
Tag
Brand
Bull
Reg Number
Feed Efficiency
Rank
adj F:G
365 adj
YW
Off Test
Weight
ADG Index
%IMF
RE
CAB Target
the Brand
Perf
Index
Dam Progeny
159
128
WTR Z63 Powerball 128
20024300
#8--5.87
1150
1303/111
4.06/115
5.50/120
12.0/98
YES
100.6
4-WR 110; YR 123; %IMF 119; RE 101
160
135
WTR 714 U S Cavalry 135
20024070
#1-- 4.73
1242
1376/118
4.14/117
3.63/79
12.6/102
YES
102
8-WR 108; YR 109; 11-%IMF 113; RE 103
Lot 160…
#1 Feed Efficiency Bull
#2 Off Test Weight
#6 ADG
Excellent All Around POWR BULL
CED 30% CEM 10%
Lot 159…
#8 Feed Efficiency
#3 Off Test Weight
High Marbling (Top 3%)/CARCASS GROWTH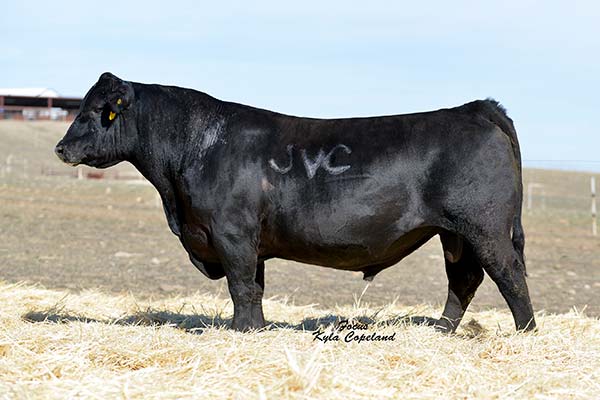 JVC Cavalry V3326,
Sire of Lot 160
BULL: #1 Feed Eff bull on test!! (4.73 adj F:G; 30% more beef at less feed costs!). #2 bull off test at 1376 lb. #6 bull on test for ADG (4.18#/da; 20% more gain than the ave bull on test) !! He's done it all. 3.63% adj %IMF and 12.6" adj RE. Bull is long and deep with extra rib expression. Good stride. Good top and heart girth; wide chested. Feet scores: ANG 6; CLW 6. Don't miss this real POWER BULL when pounds pay.
DAM Progeny: 8-WR 108; YR 109; %IMF 108; RER 104. Cow's own performance WR 101; YR 111; %IMF 107 and RE 118. Dam was a Donor at WTR with lots of power and style (excellent feet/legs and udder attachment /teat size).
Ruth S S Z63,
Donor dam of Lot 159
BULL: The #8 bull for Feed Eff (5.87 adj F:G; 14% less feed cost!). #7 bull on test for ADG (4.10#/da; 14% more beef at less cost!). He is also #4 for adj. %IMF at 5.50% (ratio 120 and MB EPD 1.30 or top 3% and $G 80 top 2%. Top 25% $B and Top 35% $C. He was #3 bull off test at 1303 lb. Add POUNDS on LESS FEED and GAIN well…and give you a dinner plate Ribeye dinner (adj RE 12.0") with HIGH MARBLING and great FLAVOR. A very BALANCED bull. Feet Scores: ANG 5; CLW 6
DAM Progeny: 4-WR 110; YR 123; %IMF ratio 119; RE ratio 101 (not incl this bull). Cow's own performance WR 109; YR 112; %IMF ratio 119; and RE ratio 103. Z63 sold to Wall Street Cattle Co (MO) in 2021 for $10,000.